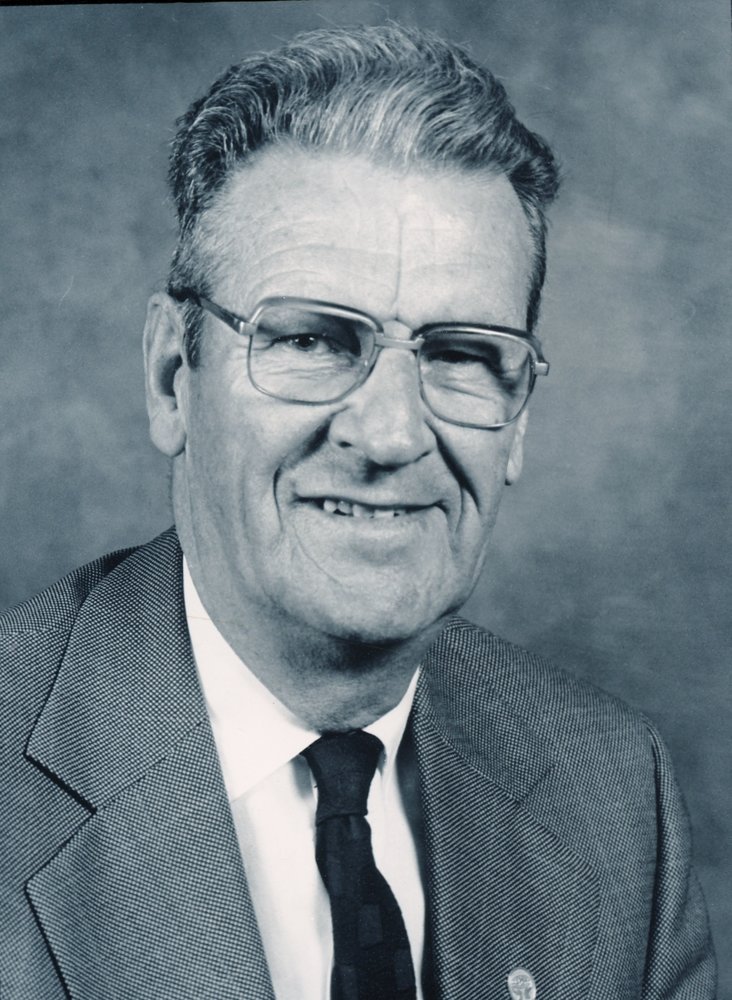 Obituary of Mederic Joseph Comeau
It is with deep sadness we announce the passing of Mederic Comeau of Halifax, on August 1st, 2021 at the age of 97.
Mederic was predeceased by his loving wife of 63 years Rita (Grandy) and his only daughter Lynette. He is survived by his son-in-law Alain Dupuis, his grandchildren Eric and Brian, and his great-grandchildren Noah and Lily.
Mederic was born in Lower Saulnierville, Digby Country on October 12, 1923. He was the son of the late Willie and Lina Comeau. Mederic attended St. Anne's University and relocated to Halifax upon graduation. In 1945 he completed his training as Infantry Officer but was not deployed. His first job was at the Naval Dockyard in Halifax working in the sail shop. He continued working at the Ship Repair Unit on the Dockyard for 38 years, retiring as Senior Manager - Workload Control Officer.
Mederic had a remarkable record of community involvement, especially when it comes to his uncountable hours of volunteer work dedicated to the cooperative movement in Nova Scotia. Mederic became a Director of Federal Savings Credit Union (now CUA) in 1957 and his volunteer Credit Union "career" began. He served as a director for 23 years, 22 of which were as President. He further demonstrated the Credit Union spirit of co-operation and commitment through his involvement with numerous committees of the Credit Union Central of Nova Scotia. He served as Director and chairman of the NS Co-op Council and of the Atlantic Council of Co-operatives. In 1999, Mederic received the Distinguished Cooperators Hall of Fame Award from the Nova Scotia Cooperative Council. After almost 60 years with the movement, he finally retired from his last post in 2016 at the age of 92. Mederic humbly attributed his commitment and dedication to his belief in "people helping people". To his last days, he was very thankful to all the fantastic people that have served with him over the years.
Mederic was a dedicated volunteer for many causes. After his retirement from public service in 1981, he became involved in Credit Union Fundraising activities. Mederic served as chairs for the IWK Bed Race, the Credit Union Fundraising Committee and District 4 Credit Union Bowl-a-Ton. He coordinated the annual Credit Union Bowl-a-Thon and achieved his goal of raising over one million dollars on behalf of the Credit Union over a period of 25 years. He was a devoted Catholic and was very active in supporting his church and parish.
Mederic knew the importance of a balanced life and had many interests and hobbies. He loved competing in sports. His favourite game was softball, and in 1951, his team won the Maritime Championship Senior Softball Shipyards tournament. For over 25 years, he also played in various bowling leagues and accumulated a large collection of trophies. This was a passion he shared with his wife and daughter. He was a meticulous stamp collector, enjoyed gardening at his cottage, cooking his râpure acadienne, but most of all, he loved fishing. For many years, he would spend his summer vacations in Bay l'Argent Nfld., either trout fishing or cod jigging. He also became very skillful at fly tying. He enjoyed traveling with his wife Rita, especially in Florida where they spent 14 winters. He would often have his grandsons joining them for a good time.
Ten years ago, Mederic moved to Parkland Clayton Park where he enjoyed the many friends he made. He kept busy by playing bridge, cribbage, poker, and pool. He was a founding member of the Cameron Hall Resident Association and was on the Board of Directors for most of his time there.
Mederic was always a compassionate, generous, and kind man. Family was the most important part of his life, and he will be dearly missed by all who loved him. For his grandchildren, he will be forever being remembered as Papa, the man that always brought joy and excitement in their life. He was a man of faith and at long last, he will be reunited with his wife and daughter again.
Special thanks to the nursing staff of Bradford and Drummond Halls, Parkland, Clayton Park. Visitation will be held in J.A. Walker Funeral Home Ltd. (2005), 149 Herring Cove Rd. Halifax on August 3, 2021 from 7-9 p.m. Mass of Christian Burial will be celebrated on August 4 at 12:15 p.m. in Saint Benedict's Roman Catholic Church, 45 Radcliffe Dr. Halifax. Interment will be in Gate of Heaven Cemetery in Lower Sackville. Due to COVID-19 protocol, we are unable to host a post-funeral reception. In lieu of flowers, donations in Mederic's memory may be made to the IWK Health Centre Foundation or Diabetes Canada.


Share Your Memory of
Mederic
Proudly Serving the Halifax Community