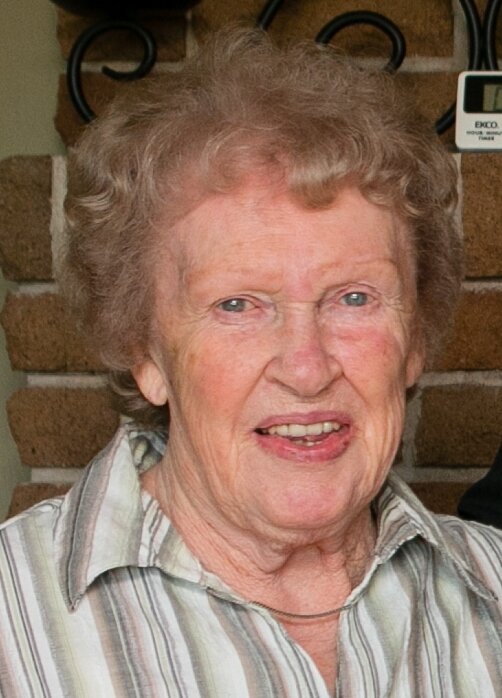 Obituary of Madeline (Flemming) Gray
We are saddened to announce the peaceful passing of Mary "Madeline" Gray, 87, of Ketch Harbour, which occurred at Maplestone Enhanced Care on March 5, 2022. She was the youngest of three children, and only daughter born to the late Albert and Alice (Kirby) Flemming.
She met the love of her life, Bernard (Bernie) Gray of West Pennant. When they dated, Mom would take great joy in playing "Tea for Two" on the piano for him. They married in 1953 and together they built their home in Ketch Harbour.
In her younger years, Mom worked for Sears, a job that she spoke very fondly of and enjoyed very much. In addition to raising a family, Mom was the bookkeeper for Dad's fishing boat, the "Verna Ann". Her records were "second to none" with her beautiful penmanship and every detail meticulously documented, a talent which she maintained throughout her life.
Mom and Dad loved to spend their free time at their cottage at Lower Lake Sixty in Annapolis County. Regardless of the season, there was always something to do there, whether it was hunting, swimming, snowmobiling or spending time with their family and friends. Mom continued to spend time at the cottage up until the last few years when her health prevented her from doing so. Reading, gardening, bingo and card games were some of her favorite pastimes. She was almost unbeatable at crib!
Mom was widowed at the age of 46, when she lost her beloved husband, Bernie to cancer. She returned to work at Sears and was grateful to have her seven-year-old grandson, Jason with her to help give her a focus after Dad's death. Mom was also an animal lover. She regularly fed her "yard pets" and would be seen walking her dog Muffy, who was well trained at fetching her newspaper in the morning.
Mom was an active and life-long member of St. Peter's Parish in Ketch Harbour. At a very young age, she was asked to become the organist for the parish, a position that she proudly held for many years. She was also a member of the CWL and a Eucharistic Minister. Mom's faith was very important to her and was a source of strength during some of the challenges she faced during her life.
In 2018, Mom became a resident of Maplestone Enhanced Care in Halifax where she remained up until her death. She quickly became known as "Nanny G" and it warmed our hearts to hear staff refer to her in that way. Our family would like to extend our heartfelt thanks to the staff and volunteers of Maplestone who treated Mom with kindness and compassion during her years there and made her feel truly "at home".
Madeline is survived by her children, Debbie, Darlene (Murray Purcell), Danny (Janice McNenly) and David. She is also survived by her four grandsons; Jason Gray (Lynn Reierson), Brad Purcell (Cindy), Ian Purcell (Cindy Harnish) and Devin Gray (Jaime Minichiello) and three great-grandsons, Leland, Trent and Stanton Purcell. Mom is also survived by her brother, Gordon (Gordie) Flemming, as well as many nieces and nephews.
In addition to her husband, Bernie, Mom was pre-deceased by her brother, Gerald Flemming.
Cremation has taken place. Visitation will take place at J. Albert Walker Funeral Home, 149 Herring Cove Road, Halifax, on Wednesday, March 9, from 6-8pm. Funeral Mass celebrating Madeline's life will be held at Stella Maris Parish (St. Michael's Church) in Spryfield on Thursday, March 10th at 10:30am with Father Rob Elford officiating. All COVID-19 protocols will be followed, including gathering capacity limits at both locations, as well as 6' social distancing and mandatory masking. Interment will be at the Mount Calvary Cemetery, Ketch Harbour at a later date. In lieu of flowers, we ask that you make a donation to a charity of your choice. Funeral arrangements are under the care and direction of J. Albert Walker Funeral Home, 149 Herring Cove Road, Halifax. Messages and memorials may be directed to Madeline's family by visiting the Tribute Wall.


Share Your Memory of
Madeline
Proudly Serving the Halifax Community