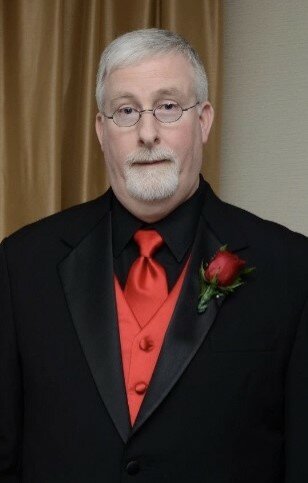 Share Your Memory of
Dale


Obituary of Dale Robert Lewin
It is with absolute utter sadness that the family of Dale Robert Lewin of Halifax announce his passing on January 25, 2023 in his bed on 7a Palliative Care Unit at the VG. Dale passed away peacefully with his two daughters holding his hands expressing their eternal love and admiration for the amazing father he has always been. Dale was born in Halifax on October 4, 1955. He was the son of the late Victor Emmanuel Lewin and Jennie Ester (Stevens) Lewin. Dale grew up on Cook Avenue and took great pride of that upbringing sharing hilariously mischievous stories of him and his friends from the neighbourhood. Dale married the love of his life Kathy in December 1979 and celebrated their 43rd wedding anniversary in 2022. Kathy and Dale were always together in life and will stay that way for eternity as Kathy predeceased Dale only 2 days prior. Dale joined the Air Force in August 1975 as an Air Weapons Technician (Armourer) and retired in October 1994 after an 18-year career. During those years he and his family had the unique opportunity to live in Germany for 4 years, Greenwood for 5 years and finally settling in Sackville, NS. He moved to working with the Corp of Commissionaires for the next 27 years spending the majority of those years well respected working at Northwood and D-201 at CFB Halifax Dockyard and finally retiring in August 2021. Dale was a naturally humorous person and you would be challenged to find someone who knew Dale, and didn't have some sort of funny story to share about him. Dale's greatest loves in life included old muscle cars, KFC and his cat Snoop. Dale was extremely proud of his daughters and all that they have accomplished in their lives. He was humbled by the decision of his youngest daughter to follow in his footsteps in joining the Air Force, he beamed telling stories of her accomplishments and adventures. Dale joined his oldest daughter at Northwood where they worked together for over 10 years, she inherited his sense of humor and the sometimes-inappropriate nature of it and they shared many laughs having that in common. Besides his parents and his incredible wife, Dale is predeceased by his nephew Paul Robichaud. Dale is survived by his daughters Karie (Chad) Raymond, Vicki (Alain) Veilleux. His Grandchildren who he received so much joy from – Caleb Raymond and Samantha and Nicole Veilleux. Also survived by his siblings John "Jack" (Nora) Lewin, Mark (Debbie) Lewin, Linda (John) Robichaud and his nieces and nephews – Glenn (Micheline) Robichaud, Sheri Lewin & Jennifer (Eddie) Bowden. Visitation for Dale and Kathy communally will take place on Monday January 30th from 6:00 – 8:00pm. At J. Albert Walker Funeral Home and a communal memorial service will be held on Tuesday January 31st at 11AM, also at J. Albert Walker Funeral Home, 149 Herring Cove Road, Halifax, Nova Scotia. Following the service there will be a reception. For those unable to attend in person, there will be the option to join via livestreaming:
To view via livestream, please visit: https://event.forgetmenotceremonies.com/ceremony?c=271c19b1-f804-4598-9544-bf72524add21
Please register at least 1 hour in advance to join. You can do this by copying the link above and pasting into your web browser.
For assistance, please call 1.877.895.2739 or email info@fmnceremonies.com
This link is live for 3 months in the event you are not able to attend on the date and time it is livestreamed.
Proudly Serving the Halifax Community