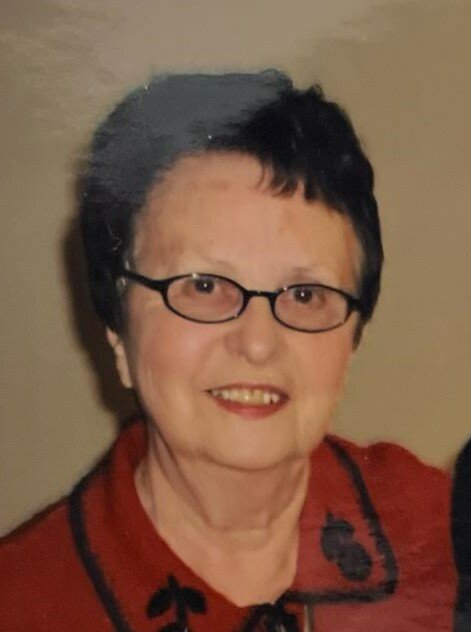 Obituary of Giselle Teresa Mihaly
MIHÁLY, Gizella (Giselle, Baby) Terézia – Age 89, of Halifax passed away on February 26,
2023 at QEII Halifax Infirmary Hospital.
Giselle was born in Budapest on All Souls Day in 1933 to Gizella and Ferenc Torok. Giselle
and her older sister, Ilona Piros, grew up during a time of great European upheaval and the
disaster of the second world war. Her parents were "master-tailors", who ran a shop in
downtown Budapest. Giselle spent much of her childhood summers in the countryside with her
grandmother but was still caught up in the trappings of Budapest society, with piano lessons
and Catholic finishing schools.

After WWII, communism was implemented by the Soviet occupiers, and being good in math,
Giselle was encouraged to earn a degree in Land Surveying. In the early '50s, she was
employed by the Budapest Geodesic and Mapping Company, where she met her future
husband, Laszlo Mihaly (Laci) a Forestry and Mining Engineer. During this time the Stalinist
principles employed by the government made life very difficult and ripe for the Hungarian
Revolution of 1956. Giselle and her colleagues participated actively in the street protests that
led to the temporary overthrow of the government. After the Soviet Army repressed the
revolution, Giselle's friends and family realized that she could be identified by the secret police
through publicly available pictures in the media and suggested that it would be better if she left
the country. A week after the end of the revolution, with the country in disarray, Giselle and
Laszlo stole across the western border into Austria, where they were met by Swedish student
supporters and taken to Vienna. They married on the 20th of December.
As UNHCR-designated refugees, they joined the faculty and students of Laszlo's alma mater,
Sopron University, who had been adopted, en masse, by the University of British Columbia's
forestry school. After the winter crossing of the North Atlantic, they arrived at Halifax Pier 21 in
January 1957, when they began the Transylvania train trip to BC. But after facing an illegal border
crossing, enormous seas, and now the endless Canadian forests, on reaching the vibrant and
cosmopolitan city of Montreal, Giselle refused to go any further.
Work opportunities in engineering and surveying for Laszlo brought Giselle to the hinterlands
of Quebec, where she worked cleaning houses, took on the odd drafting job, and learned the
languages. In Montreal, they had a son (Steven Ferenc Mihaly) in 1959. Finding work in the
west island, they bought a house in Pierrefonds where they had a daughter (Susan Linda
Mihaly) in 1964.
In 1970, with the cultural change in Montreal and job opportunities in Halifax, Laszlo and
Giselle chose to relocate to Nova Scotia. Those early years in Spryfield were always
remembered as the happiest days of their lives. With her neighbor and friend, Giselle opened a
clothing store called Family Fashions on Herring Cove Road. When that venture came to an
end, she continued in retail at the Spryfield Met and then later at Sears on Mumford Road where
she worked for over 25 years into her 70s. In 1983, she designed, and Laszlo built, a house on
Bridgeview Drive where she loved to welcome her friends and where she cooked many Sunday
night dinners for her beloved children and grandchildren.
Giselle was predeceased by her husband Laszlo (Laci - 2021) and her sister and brother-in-
law, Ilona (Icu - 2013) and Ferenc (Ferko - 2013) Nagy. She is survived by her son Steven
(Christine Clark), daughter Susan (John Fraser), and grandchildren, James, Sarah and
Alexander Fraser.
The family would like to thank the healthcare workers at the QEII, Floor 7.4 (Stroke and EMU)
for the expert and compassionate care, everyone provided.
In lieu of flowers, donations can be made to the Halifax SPCA. Cremation has taken place.
Arrangements have been entrusted to J. Albert Walker Funeral Home (2005) Ltd. To leave
words of comfort for the family please visit www.walkerfh.com.


Share Your Memory of
Giselle
Proudly Serving the Halifax Community