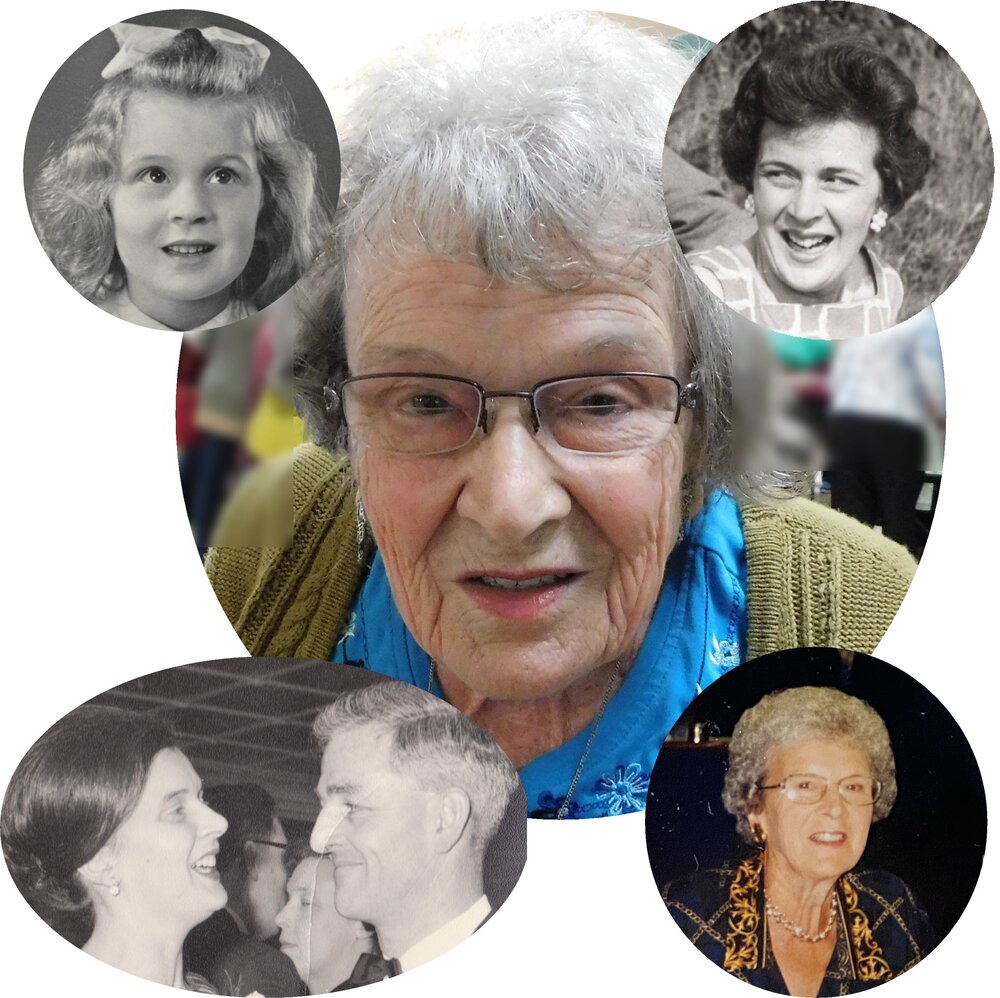 Obituary of Ann Wood
Ann Wood (née Spencer), 89 years + 358 days, a week shy of 90, passed away peacefully on May 26, 2023.
Born in Birmingham, United Kingdom, Ann is predeceased by her parents Colin Spencer and Elsie (Gough), her older brother, Derek (Jane), and step-son Martin. Ann is survived by her daughter Amanda in Canada and step-son Paul (Pam) in England as well as by several other direct relatives in England: her niece Mary, nephew Micheal (Kim), and step-grandchildren James, Toby, Anthony, Christopher, Martin Jr., Daniel, and Yasmin, and Martin's partner, Melanie.
Ann's long life was speckled with a variety of travels, music, food, chocolate, and interests from an early age. She loved riding as a young girl and as expected of an English lady in the 40s and 50s, Ann became proficient in a variety of practical skills such as shorthand, dictation, and typing. She attended finishing school in Switzerland and then spent time in France at Grenoble University where at the age of 21 (1954) she graduated with an advanced certificate degree in French. Ann would later in 1958 (age 25) graduate from the University of London with an advanced French level, and then again in 2003 (age 70) complete two more French courses at the Nova Scotia Community College. Her communication skills were put to good use: first working in London, UK, for the English Folk Dance and Song Society (ironically before she met John!) and then when she moved to New York in 1959. While in America she worked at the New York Hospital, Cornell Medical Center for three years before returning to London by ship in 1962. Back in London, she worked at the Hospital for Sick Children Great Ormond Street between 1963 and 1965.
Ann married her beloved John Wood in 1965 and became step-mum to Paul and Martin. In 1967, Ann and John had a daughter, Amanda (aka Mandy). In 1969, the family moved to Nova Scotia, Canada, where Ann spent the rest of her life. In addition to being a mother, between 1975 and 1985, Ann was the bookkeeper for John's Halifax business, The Printing Shop. Ann proudly obtained her GED in December 1984, just six months before her daughter Amanda graduated from high school.
Ann and John enjoyed traveling for many years and all her life she cruised with the Holland America line, starting with when she moved to New York in 1959 and on the return in 1962. John and Ann went to many places, including Antarctica and the Galapagos Islands, and had several adventures in the Caribbean when the Amazing Grace was still doing its island runs. In Halifax they also went sailing with friends, and Ann joined John with the English Folk Dancing and Scottish Country Dancing that he taught for many years in Halifax. Their dancing took them all over Nova Scotia and Ann was never shy to get dressed up in costume for the various festivals they attended.
Ann was a lifelong gardening enthusiast who volunteered with the Horticulture Society in Bedford. In 2008 she won a Volunteer Appreciation Award that she was always proud of. She also enjoyed her time in the 1990s playing lawn bowling. Ann loved live music and during her time at Melville some of the greatest joy came from the music therapy and when musicians and dancers came to perform for the residents. In the last while Ann actively participated singing in the choir with the Universalist Unitarian Church of Halifax, where many very kind people helped get her there and back on a regular basis. Ann was also an animal lover who has always taken comfort from the horses, dogs, and cats that have come in and out of her life.
A huge amount of gratitude is also extended to Melville Lodge staff in Spryfield for the consideration and love they have provided for the years spent in their care. Also to the others who have helped and visited during the years. There are too many people who have come and gone to single any one person out but over the years Ann had become a regular fixture in their lives and a bright spot in their days as much as they were in hers.
Ann was an adventurer at heart: From her early years in Europe, to her brave move to a new world in the late 50s and 60s, to moving to a formidable province far from her family with a small child, Ann did her best to brighten the days of others and share her spirit with the world. She will be missed by many and we all hope she has found peace at last.
Cremation has taken place. A private celebration of life is being held on June 2, which was to be her 90th birthday. If you knew Ann and want to reach out with stories please contact Amanda Wood at amandawood42@gmail.com.


Proudly Serving the Halifax Community