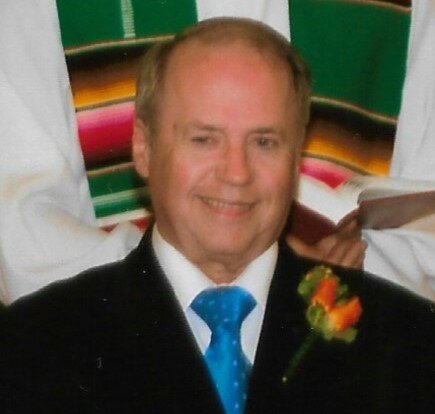 Share Your Memory of
David


Obituary of David Pelerine
Age 76, passed away from cancer on 6 August 2023 at the VG hospital.
Born in Halifax, NS to Joseph Stanley and Lillian Mary (Dorey) Pelrine. Growing up, Dave enjoyed spending his summers in Cape Breton with his sister, Madeline, and close cousin/almost brother, Albert. He married his first wife, Judy, in 1971. After starting a family, he graduated from St Mary's University in 1981 with a BA in Geography and History as well as a Bachelor's in Education. He then moved the family to Fort McMurray, AB, where he spent the next twenty years teaching junior high students at various schools; ever after wherever he traveled, he would inevitably hear "Mr. P, do you remember me?". He returned with Judy to Halifax in 2003, and after her own courageous battle with cancer, he lost her later that year. Several years later, he was blessed to meet Claire, whom he married in 2009.
While tremendously proud of his Acadian heritage, Dave also had a great respect for and interest in the First Nations people both in Nova Scotia and in Alberta, loving the art, music, and dancing of both cultures.
During the Alberta winters, Dave could be found curling and skiing, and in the Nova Scotia summers, he puttered around in the garden. He loved a good story, whether it was reading or going to the movies. Like his father, Dave loved to dance, whether chaperoning school dances or kicking up his heels at the "Seaside Dances". Dave's great passion, though, was to go for a drive, including many cross-country adventures with his "brother-from-another-mother", Don Leahy.
Dave was strong in his Catholic faith, from his days as a choirboy at St Mary's Cathedral Basilica to being a Eucharistic Minister as an adult. He lived out that faith every day; always a gentleman, showing real kindness and generosity to everyone. People felt welcome in his home, where he loved to host celebrations, especially BBQs on the deck with good wine and whisky.
Dave loved and is loved by his whole family, including his in-laws and friends who are family by choice. He will be sorely missed.
He was predeceased by his parents; his first wife Judith Anne (Oakley); his brother-in-law Wayne McCabe; his paternal and maternal grandparents; and a host of beloved cousins, aunts, and uncles.
He is survived by his wife Claire (Durling) of Halifax, NS; daughter, Jennifer (Shane) Leahy of West Bridgford, England; step-daughters, Sara Durling, and Laura (Fabrice) Cesana of Halifax, NS; step-grandsons, Aidan and Mac of Halifax, NS; sister, Madeline McCabe of Halifax, NS; niece Cindy (Scott Parsons) McCabe of Halifax, NS; as well as an extended family of kin, including Albert (Pierre Proulx) Dorey of Halifax, NS and Shirley Carson of Halifax NS.
Many thanks to the team at Palliative Care at the V.G. for the outstanding care they gave to David and the support they gave to the family.
The funeral Mass will be held at Stella Maris Parish (St Michael's Church), on August 12th, 2023 at 10 a.m., followed by a reception at the church, finishing with the burial taking place at The Gates of Heaven Cemetery.
In lieu of flowers, donations can be made to: The Canadian Cancer Society.
Funeral Mass
10:00 am - 11:00 am
Saturday, August 12, 2023
Stella Maris Parish
6 St. Michael's Avenue
Halifax, Nova Scotia, Canada
902-477-3530
Joseph "Dave" Pelerine

Get Directions
Burial G.O.H.
1:00 pm - 1:45 pm
Saturday, August 12, 2023
Gate Of Heaven Cemetery
Sackville Drive
Lower Sackville, Nova Scotia, Canada
Joseph "Dave" Pelerine

Get Directions
Proudly Serving the Halifax Community